Symposium at FACT, Liverpool – with participants including Cécile B Evans, Chris Boyd, Stephen Fortune, Lambros Malafouris, Alex McLean, Anna Munster, Holly Pester, Hannah Proctor, and Imogen Stidworthy. 
Workshops in collaboration with Mencap introducing a variety of creative technologies including animation apps, vocal effects and sonic play to a group with learning disabilties.
Publication brings together a diverse collection of essays and artworks, many newly commissioned for the project, that reflect upon the plasticity of the brain, the adaptability of technology and the malleability of language, and their twisting together through past, present and future cultures. The contributors and their work each offer unique models of navigating this territory, making their own artefacts, writing their own scripts, forging critical space and examining the blind spots.
 "Torque activities and this publication bravely push our boundaries of cognition and thinking, through striking essays, tricky concepts, and beautiful, arresting imagery."
—Professor Mike Stubbs, Artistic Director at FACT Liverpool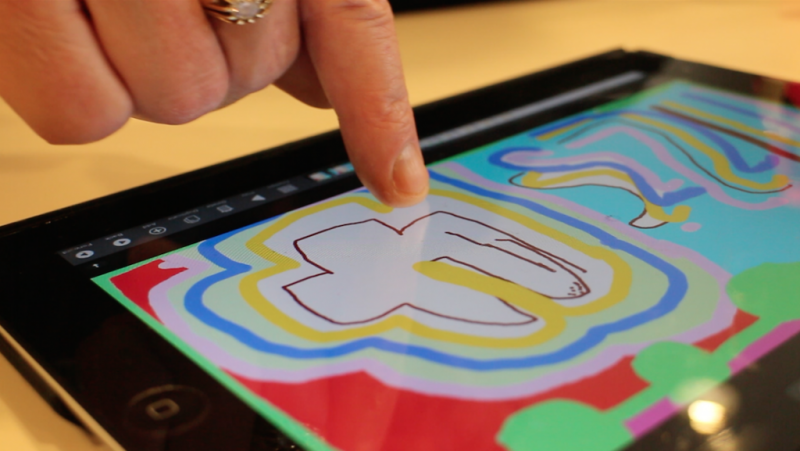 Torque Live @ Rich Mix, London, 06.06.14
Featuring practitioners from fields of poetry, live coding, dance, diy robotics, classical music, animation and theatre, entwined into a twisted symphony of voice, light, bodies and sound. Featuring:
Oliver Coates — New Commission comprising cello, electronics and field recordings, alongside 'Oraison' by Messiaen, one of the first compositions written for electronic instruments. Accompanied by newly commissioned video works by Sam Skinner.
Untitled [Rotate], 2014
Music by Oliver Coates, Video by Sam Skinner, Watch video on Vimeo.
Holly Pester — Hannah Weiner's Code Poems: a re-staging of Hannah Weiner's 1960's work, a poem/performance score using the coded signalling system for ships at sea.
Alex McLean & Kate Sicchio — Sound Choreographer <> Body Code created a feedback loop and conversation through code, music, choreography, and dance.
Karl Heinz Jeron — Sim Gishel – a multi-media robot. He sings and dances for money, and tries hard to take part in casting shows to become a pop-star.
Nathan Jones & Mark Greenwood — The Nodes – a series of conversations as radical language events, proposing a future for speech beyond communication.
Installation at Type Motion, FACT, Liverpool, 13.11.2014 – 08.02 2015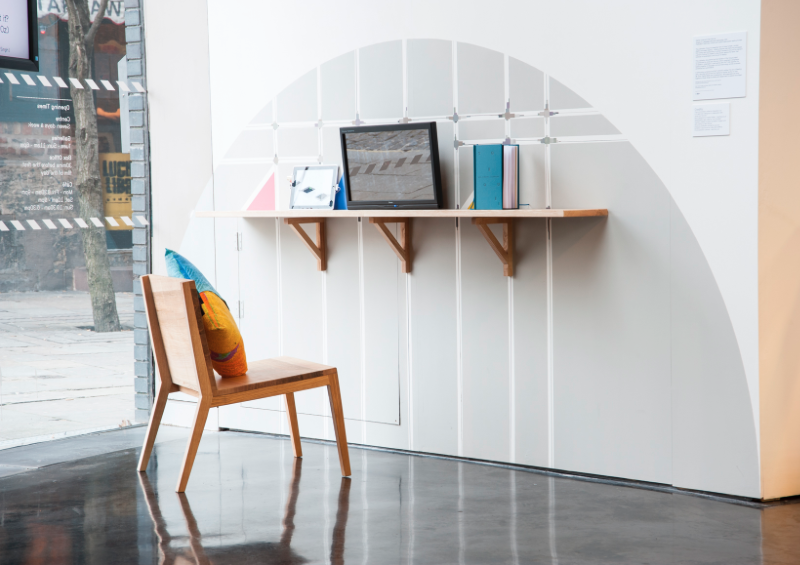 The book was presented in three formats – printed, digital, and speed reading – utilising bespoke manufacturing processes, from coding and bookbinding, to mural painting, artisan woodwork and print-on-demand cushions – inviting the reader to discursively explore the texts, their mediums of transmission, and the act of reading.
The installation's three-fold and three-dimensional presentation of the publication sought to articulate some of the diverging feelings evoked by reading in its various forms, as well as questioning the state of modern publishing, and how, what and why we read today.
The speed-reading version of the book is shown below, and discussed in detail in our essay 'Absorbing Text – Rereading Speed Reading.
Speed reading app coded by Tom Schofield
Speed reading typeface and wall painting by Sam Skinner
Print-on-demand cushions designed by Jones and Skinner and printed LS Prints, Keighley, West Yorkshire
Watch Video on Vimeo